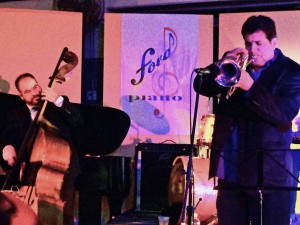 24 Feb

Ciacca Quintet Kicks Off Italian Jazz Days in Peekskill

Jazz artist and Lincoln Center Director Antonio Ciacca and his quintet celebrated Italian-American month with a concert at Ford Piano.
By Liz Giegerich – October 3, 2011

World class musicians filled the Ford Piano Factory with the smooth sounds of classical jazz Saturday night when the Antonio Ciacca quintet kicked off the third annual Italian Jazz Days 2011 in Peekskill.

Jazz Days is series of concerts presetned by TwinsMusic Enterprises and the Italian Cultural Institution of New York.About 50 people filled the Ford Piano factory turned concert hall to watch Ciacca, the Director of Jazz at Lincoln Center, Julliard professor, and well- accomplished Italian pianist, and his group perform.The show featured Daniela D'Ercole, jazz singer; Joe Magnarelli, trumpet; Luca Santaniellos, drums and Marco Panascia, bass.Between songs Ciacca told the audience a little about jazz and his experiences.Ciacca told the crowd he sees Peekskill as the "music capitol of the Hudson Valley." A comment that was met with applause.To learn more about Italian Jazz Days visit the Italian Cultural Institutes website. The Ciacca quintet will be performing at Dizzy's Club Coca Cola in Manhattan from Oct. 4-9.