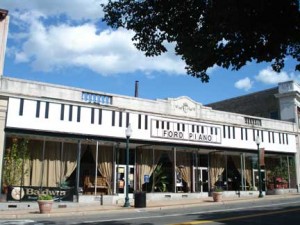 26 Feb

Four generations of piano men in Peekskill
Step into the confines of Ford Piano in Peekskill, and the trip from the sidewalk to repair shop is like stepping into a past century.
It's a world of wood, wires, varnish, hand tools and manual labor — 18th-century technology and craftsmanship at its finest. It's the kind of world that Janos Fekete entered when he came over from the old country, Hungary, to begin a new life in America. His sons, grandsons and great-grandsons still live and work in that world today.
John Ford, the current proprietor of the longtime piano business, keeps an old work bench his grandfather used in his shop as a touchstone to family heritage, and he can spin off stories about his ancestors as easily as he can play a bluesy piano riff.
"I'm a jazz and blues guy, though I was classically trained. I love it all," Ford said.
His ancestor might not recognize the kind of music that John Ford likes to play, but he could certainly understand the work he does.
Old Janos Fekete was a young and talented cabinet-maker, but he couldn't stand the one task to which junior members of the trade were assigned, measuring corpses for their coffins. So it was off to the Yorkville neighborhood of upper Manhattan, home to a burgeoning piano-making industry in the late 1800s. Janos was a manically hard worker: He would build three piano interiors in the time it would take most workers to build two, and he kept his wood-shaving tools so sharp they could split a hair. Family lore has it that Janos, who worked for a time as a foreman at Steinway Pianos, came up with the name of the "Baby Grand."
Ford's father was an innovator who designed new mechanical systems for the piano and created new tools for piano work. In typical American fashion, he changed the family name to Ford.
John Ford started his own business in the piano trade, selling, tuning and repairing the instruments, with the bulk of the work in rebuilding older pianos in his 20,000-square -foot workshop on Division Street in Peekskill. Like his forebears, he, too, has big ideas.
Next door to his showroom is a performance space that Ford has been meticulously planning for years. About $500,000 has already been put into the construction of the venue, and Ford is hoping to open it in about another year's time. He has to install a kitchen and a bar — and not just any bar. He's looking to build a 35-foot-long bar that gently curves to suggest the lines of a piano, inlaid with 88 white tiles, the number of keys on a piano. He also wants high-end musical talent to feel right at home playing there.
"My entire career has been helping piano players. I have so many favors to call in," said Ford, a married father of two who lives in Cortlandt.
The acoustics of the room will be just right for the piano, Ford says. It's an ambition he's long pursued: "I just want to have the fun of listening to these gorgeous pianos I've built. I love music, and I love to cook, and I love good wine, so it's a natural." There's still plenty of work to do on the performance space, but Ford says, "Nothing is going to stop me. I've been thinking about it for decades."
When the performance venue opens up, he might start turning over more of the business to his two sons, Mike and John III. They're the fourth generation of piano men in the family.
Mike Ford says he's ready to follow in those footsteps. "It's great working in a family business, I wouldn't have it any other way," said Mike Ford, 26. "I'm learning the trade my family has been doing for 100 years, and my dad is a great guy to work for. It's part of the reason we're successful … we're a tight-knit family, and we've been doing it forever."