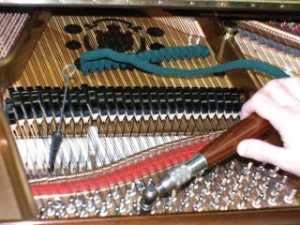 26 Feb

Ford Looks To Expand
Signs tentative deal to acquire Hermax building.
By Brian J. Howard
John Ford has grand plans for downtown Peekskill, and he's hopeful a deal he swung last week with the city will make them real.
Ford owns Ford Piano, a  piano rebuilding business on Division Street, and lists John Lennon, Stephen Sondheim, and Madison Square Garden among his clients. He reached a tentative agreement last week to buy the historic Hermax building next door for $325,000. The deal would clear the way for a music hall at the corner of Division and Brown streets.
The Cortlandt Manor resident said he already filed plans with the city planning commission to build a 4,000-square-foot music hall at 15-23 Division St., adjacent to his storefront workshop, replete with a dance floor, table seating and a performance stage designed by a sound engineer for optimal acoustics and big enough for a full orchestra.
"You may think this is a little grandiose of me," Ford said last week, "but Steinway has Steinway Hall (in Manhattan) and Bosendorfer has Bosendorfer Hall (in Vienna). Why can't Ford Piano have Ford Hall?"
The Peekskill Industrial Development Agency – the arm of the city government that technically owns the property – met last week and authorized Chairman Vincent Vesce to execute the contract of sale. Vesce, a former Peekskill mayor, must sign off on it before sending it to the common council for approval.  Councilwoman Cathy Pisani, who sits on the IDA board, said the agreement was "well on its way."
"It's the right thing to do," Pisani said. "And I'm glad someone as reputable as John Ford is doing it. I'm sure his plan will be completed.  He's not a pie-in-the-sky guy, and I'm sure this project will come to fruition."
Ford envisions the music hall feeding off the Paramount Center for the performing arts. It's that kind of development he saw revive his working class East Side neighborhood into an upscale entertainment destination in the 1950′s.  He's sure it would offer similar benefits to Peekskill.
"Entertainment was the catalyst for this stuff," he said. "I've seen it happen in my own hometown. There's no reason it can't happen in a town like this.  I know it will happen and my property values will go up."
The agreement Ford reached with the IDA requires that he repair the Hermax building's crumbling facade and remove the blue scaffolding out front.  He must also maintain the second-floor artists studios.
The basement area would be used as increased storage space for his 15,000-square-foot piano business. The music hall would occupy the main floor.  With just a handful of places in Peekskill that feature live music, Ford envisions a growing downtown music scene.  He hopes to create a place where musicians would want to come and play.
"Living in Manhattan, my prerequisite was to be in walking distance to a jazz club," he said. "Up here I've got to make my own club."
Besides Ford's reputation, the city is confident he will follow through with his plans because of his success since he moved his business up from Water Street three years ago in larger quarters on Division Street. The space had gone unoccupied for years. Ford provided the city with rental income and contributed a growing business to downtown revitalization.
Peekskill has emphasized finding creative new uses for old structures downtown. The former Steinbachs building and the Paramount East are two examples.
It's "an anchor location in the downtown," Pisani said of the Hermax building. "It's extremely important to upgrade that area."
The family business
Ford Piano specializes in restoring old pianos, most built between the 1870′s and the 1960′s.  Ford himself represents his family's third generation in the business. A fourth generation, his sons, is in the training.
His grandfather, a cabinet-maker named Janos Fekete, came to New York from Hungary in the early 1900′s and adapted to piano building.  Business was booming since pianos were a common form of home entertainment.  The industry has actually been in decline for about 80 years, Ford said.
Fekete excelled at the craft in the business and made the crucial decision to remain in New York when much of the industry moved South. "He liked hanging out with his cronies, speaking Hungarian in the street," Ford said.
Once in a while, he'll get a Fekete piano in his shop.  Fekete's son, John P., was the first to take the name Ford.  The younger John Ford remembers his father as a genius, who profited well from his ability to craft unique piano tools that are now industry standards.  Neither he nor the younger John Ford ever did anything but piano rebuilding, both growing up in the family workshops they came to own.
A musical vision
The music hall concept goes back 20 years for Ford.  A musician, un-like his father and grandfather, Ford has long dreamt of creating a space to play, and see played, the fine instruments restored in his shop.  His ambitions don't stop there.
Along with friend and fellow Peekskill resident Dr. Richard Jordan, a sociologist, Ford plans to establish a non profit organization aimed at providing musical training and instruments to allow talented young people in Peekskill schools to develop their abilities.
The idea is that a musical talent, like athletic ability or other skills, can be a deterrent to drugs or other negative choices, Jordan explained.  "The philosophy is based on (the idea that) if we help children identify their talents when they're very young," Jordan said,  'then they have a reason to say no to some of the things
they will be faced with when they grow up.
'We say no when we have some thing to protect, he added.
Jordan is in the process of filling papers with the state.  Ford said the building purchase clears the way for the nonprofit, which is as much about helping kids as it is about music.  He said Jordan is key to that effort.
"This cat played with Dizzy Gillespie and Charlie Parker."  Ford said "This is a really cool cat, and he's my close buddy.