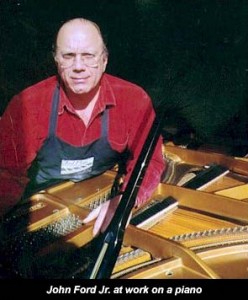 26 Feb

John Ford Keeps Family Tradition Alive

Westchester County Business Journal – April 2001
John Ford started Ford Piano Co. in 1985 in Peekskill to carry on a century-old family tradition that his grandfather brought to America from Hungary.
John Fekete, who emigrated to the United States from Hungary in the 1890s, opened Fekete Pianos about 1912 or 1913 in Manhattan.
Fekete ran the shop until his death in 1957, passing on the business to his son, John, who changed his family name to Ford and the name of the business to Ford Piano Co.
Meanwhile, John started a new business: Ford Piano Supplies. He sold both businesses five years ago when he retired. He died in 1999.
His son, John Jr., who was "pretty much born in the piano shop," started his own company in 1985 to keep alive the family tradition. Since its founding, Ford Piano Co.'s growth "has been phenomenal," he said.
In 1985, it was a one-man operation. Today, it employs six workers and grosses $300,000 yearly.
"We pretty much have a waiting list of people who want our pianos," Ford said. "We have a lot of work. I'm blessed with people who love to work as much as I do. It's fun to do this sort of thing."
Ford Piano rebuilds and sells about 100 pianos a year.
"We're basically rebuilding specialists," Ford said. "We also sell new pianos. We have a sales showroom in the old 5- and 10-cent store in the middle of the artists' district in Peekskill."
Bronxville resident Lee Schwartz, 70, has known the owner of Ford Piano since age 12. He first met John Ford Sr. when he came to the youngster's home to tune his piano.
Later, Schwartz went down to Fekete's shop in Manhattan, and they became friends. Eventually, he worked with Ford Piano as a subcontractor.
"To me, to be able to take wood and metal and make great sounds out of them is the most exciting part of making a piano," said Schwartz.
What also made his work at Ford Piano enjoyable was the attitude of its owners.
"I cannot put a finger on it," Schwartz said. "They were nice people to work with. They're very attentive to the needs of the other people in the field."
During his nearly 60-year involvement, the piano business has undergone many changes, most notably the emergence of Japanese piano makers like Yamaha as dominant players in the industry.
He's also noticed a disturbing trend: a dearth of piano repair people. Nationwide, Schwartz said, 600,000 pianos are sold every year, so in a decade some six million pianos will need servicing. There simply aren't enough people to meet the need, he added.
In Westchester, about a dozen people can repair pianos. He had no idea how many pianos are sold yearly in the county.
"We have quite a number of wealthy people in Westchester," Schwartz said. "I suggest every one of them has a piano."
John Jr.'s foray into the business goes back to his childhood in the 1960s.
"I started at a very young age," said Ford, 51. "I was pretty much born in the piano shop. My father did not believe in the child labor law. He used to say, 'If a child can walk, put a screwdriver in his hand.'"
Ford, who grew up in Manhattan, took piano lessons for a dozen years as a child and "always enjoyed working with my hands. Time seems to go very fast that way," he said.
What's the most exciting aspect of Ford Piano Co.?
Rebuilding a piano is the most exciting aspect of the job, Ford said.
"I do derive a certain amount of satisfaction seeing the instrument all done and beautiful," he said.
To him, restoring a piano to its original beauty is a work of art that quenches his creative thirst.
"We're taking an object that is 100 years old and putting in all the parts and rebuilding the beauty that will last another 100 years. That's exciting," he said.
"When we get a piano, we spend months and months on it. When we're done, it is a magnificent instrument. There's a sense of gratification. That happens a lot."
Ford Piano's customers include individual musicians, concert halls and "private parties who appreciate music." Parents whose children take lessons also buy pianos.
"I firmly believe that every home should have a piano in it because it's a thing of beauty," Ford said.
Joel Martin, a Tarrytown resident who plays piano with the New York Philharmonic and Philadelphia Orchestra, bought his first piano from Ford Piano seven years ago.
"When I told him what my requirements were, he said 'I think I have one,'" Martin said, referring to John Jr. "The first piano he showed me, I ended up buying it."
Martin has since referred more than 150 customers to Ford.
"I think when they want the absolute best, he is my first choice," Martin said. "He has a lot of honesty and integrity toward his work. As a person, he delivers the goods."
Over time, piano aficionados' tastes for the instrument have changed, especially their preferences for appearances and shades. But this is nothing unusual, Ford said.
"Different colors come and go," he said. "They would go out of fashion and then they would come back in fashion."
Red mahogany pianos were popular in the 1960s, then fell out of favor in the 1970s as walnut came to the fore.
"Now, mahogany is popular and walnut is not," Ford said. "People change. It has nothing to do with the instrument."
As for the looks, he said antique-looking legs ranked high in popularity in the early 20th century. By mid-century, "modern-looking" pianos were the vogue.
"Now, people request the old look – antique looking," Ford said.
The price of pianos also has changed. In the 1950s, a good quality piano cost $500 compared to as much as $25,000 today, Ford said.
A small "nice upright" sells for $2,000 while a rebuilt Steinway can fetch $25,000, Ford said.
"We have both kinds of pianos and everything in between," he said.
While running a thriving business is satisfying, Ford is equally pleased by the fact that his family has enriched the music world.
"My grandfather is credited with coining the phrase 'Baby Grand,' which refers to a small grand piano," he said. "My father invented tools and concussions that have become standards in the industry."
"I do have a national reputation. Within the last year we rebuilt and shipped pianos to Alaska, Georgia, Maryland, all over New England and North Carolina," Ford said.
Ford said he is often surprised when people call him to say they bought a piano from his grandfather 60 years ago and ask if he can repair it for them.
Of course, he can.
"We're not a fly-by-night operation," said Ford. "We are here to stay."