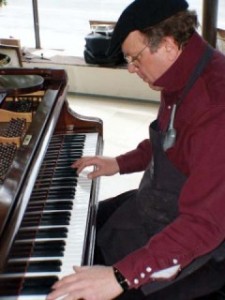 26 Feb

Making Music Downtown

The Star – January 2001
By Susan Chitwood
John Ford has rebuilt pianos for any number of famous professional musicians, including John Lennon, Roberta Flack and Stephen Soundheim.
He has also restored pianos for the rich amateur musician, including Middle Eastern Sheik whose malachite grand piano needed resuscitation.
But when Ford chose new quarters last year for his workshop and showroom, he landed at the site of the old McCrory's in downtown Peekskill, neither glamourous nor exotic.
The old five-and-dime shines like a new penny, though, with 80 feet of window glass fronting 15 South Division Street, where lustrous black pianos hold court in 15,000 square feet.
"I'm quite happy here," the former Manhattanite said, "I believe my presence here is going to pick up the neighborhood a bit.'
The third -generation rebuilder had been searching for new space after out-growing his 5000 square foot Water Street atelier, and the McCrory's site had been vacant for at least six years, former mayor Fran Gibbs said.
The city's Industrial Development Agency, which owns the building,had been unable to secure a tenant as part of a downtown revitalization effort because of its size.
"We were pretty excited when he indicated his interest," Gibbs said.  "We were excited about his plans, too, because it's a unique business.  It's amazing what they do."
Pianos are rebuilt every 50 to 100 years because they wear out.  Ford and his crew of specialists can install new strings, sounding boards, keys and hammers and restore the finish.
"A piano is essentially a conglomeration of steel, wood, felt, iron, ivory and brass," Ford said.  "It's an unusual, complicated instrument.
"We knock it apart and make it like new again.  The beauty of it is watching their faces when (the owners) come in."
Ford modestly conceded that he gets calls from all over the country because he does "have a bit of a reputation"and "reputation is key.  My employees regard quality as something to strive for."
One call came from a little old lady on East 72nd Street.  "She said my grandfather sold her her piano in 1922 and asked did we want to buy it.
"I went down there,  We  bought it, rebuilt and sold it to someone out here," Ford said.
With an additional 10,000 feet of space available, Ford now sells pianos, and not just to Broadway legends and Middle Eastern potentates.  His selection runs the gamut from from old to new, starter uprights to fancy concert grands.
But what about piano music?
Before the customers return for the unveiling, Ford tests his work.  "Every one we finish I sit and play for a while to get as much tone as possible," he said.  "That  important."
His test run is a blues and jazz improvisation although he's  a classically trained pianist.  " I promptly forgot all that, " he said.
With any luck, Peekskill will have not just a new business, but a new business producing live music.  Nothing's definite yet as Ford Piano is still under construction, but a grand opening in march could feature top-shelf pianists, Ford said, and he hopes to give recitals in the future on special occasions. Who knows, maybe the maestro himself will play us a tune as lovely as his hymn to the downtown.