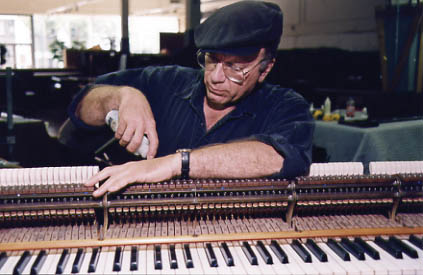 26 Feb

When the Steinway Sags, Call The Piano Man

Peekskill Herald – February 1996
By Mary Judith Conklin

Piano rebuilder John Ford stood in the midst of over 30 pianos in various stages of assembly, as picturesque in his old-fashioned apron as his Main Street shop overlooking the Hudson.

One piano he was in the process of refinishing gleamed richly with burnished mahogany tones, its inner working shiny like gold.

"I get all my pleasure rebuilding pianos," he said. 'I'm happy because I love doing it."

Ford, 46, employs a half dozen people and has a specially-trained crew to transport treasured pianos from the customer's home to his shop. He also makes house calls to tune pianos and do minor repairs.

Ford's business has been in Manhattan, and then at his home in Cortlandt Manor. He moved his work to 417 Main Street near Water Street, last summer. Sometimes replacement parts for vintage pianos are available, and sometimes Ford custom-makes them.

Another of his specialties is "voicing," the regulating and adjusting of sound, as he defined it.

One of the most interesting pieces in the shop is a player piano featuring "complete expression from very soft to very loud." Its owner has piano rolls made by Rachmaninoff and Pederewski, and the piano reproduces the sounds exactly as played by the masters.

Ford is full of advice for those who would like to own a piano.

"Let's say you have nine or ten grand. You can get an Oriental piano for that and you can also get a rebuilt American piano for that. In 10 years that Oriental piano will probably be worth less than half of what you paid for it. The rebuilt American will hold its value or appreciate."

There are other advantages to buying American.

"The tone in many, many cases can be superior to a new piano. It's a very esoteric thing, a combination of materials, labor, design, and manufacturing techniques," he said.

Ford spins tales of the heyday of the piano industry and the accomplishments of his immigrant grandfather, John Fekete, with as much enthusiasm as he rebuilds and fine-tunes the prized instrument.

Fekete, who came here from Hungary, Americanized the family name to Ford during the 1950′s. He operated a piano repair business, which he eventually sold. Ford's father operated a piano supply business offering tools and piano parts, which he in turn sold when he retired.

There was once a time in America when almost every home, church, and meeting place had a piano. Friends and family gathered around a piano player tickling the ivories, or a player piano reproducing music from a roll.

That was at the turn of the century, when 'believe it or not, the piano industry was the largest in the country in terms of the amount of people employed," said Ford.

Over 200 factories hummed with activity in New York City alone. Fekete was a foreman at many of these, including Steinway.

Early pianos were manufactured without benefit of electricity. 'People would come to work with the sun – factories were built with lots of windows – and work until the sun went down," Ford said.

Comments are closed.