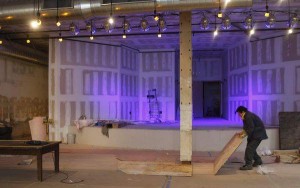 26 Feb

Peekskill Piano Refurbisher Opens Music Venue, Fulfills Dream
A worker puts down plywood at the F-Sharp Restaurant and Music Hall in Peekskill. / Photos by Ricky Flores/The Journal News
 PEEKSKILL — John Ford has spent the past few decades refurbishing pianos. Now, at 61, the Ford Piano owner said he wants to spend the next decade or two listening to them.
Ford's 40-year dream of operating a live music venue is about to become a reality. Ford plans to have the doors to F-Sharp open by summer or early fall, he said. The performance space will also also include a bar and restaurant.
"It's going to be a major draw. I have extensive contacts in the music industry—in all genres," said Ford, who is also a pianist. "I can get folks to come up here who wouldn't normally play in small places."
The 4,000-square-foot space on South Division Street is under construction and includes a stage large enough to fit an 18-piece orchestra. The site has a 275-person capacity.
Ford said he expects to attract a variety of acts from reggae to rock to classical. F-Sharp, he said, will serve as a complement to the Paramount Center for the Arts, around the corner on Brown Street, as well as to several nearby restaurants that offer live music. He envisions patrons heading over to F-Sharp after a Paramount show and headliners from there stopping by for a set.
"This joint is going to be the cornerstone. It's going to cement Peekskill's reputation as the musical center of the Hudson Valley," said Ford, who lives in Peekskill. "I'm going to make it happen."
Peekskill's downtown art scene has been growing in recent years with the addition of artist's lofts, museums and galleries. The 1,024-seat Paramount has also set the stage for internationally acclaimed musicians.
"I think it will liven up the downtown," said Pat Braja, the Paramount's acting executive director. "The more you can build a consensus for arts and entertainment in the downtown, the more it has the potential to be a positive impact for all of us."
City officials agree that F-Sharp will continue to fortify the city's revitalization.
"It's going to be a wonderful asset to our downtown entertainment and cultural district. John Ford has been working very hard in creating a first-class food and music venue," said Mayor Mary Foster. "It preserves a historic building in our downtown. So it's very exciting."
Mike Ford, left, and John Ford are co-owners of the F-Sharp Restaurant and Music Hall in Peekskill. John Ford III not available for picture
The city, in collaboration with Ford, secured a $275,000 state grant for the venture that was issued in January 2008, assistant City Manager Brian Havranek said.
The New York State Restore New York Communities Incentive Grant distributed through the state Urban Development Corporation went toward rehabilitating the space, including a new electrical and plumbing system, acoustical ceiling and stage, he said. Ford said he also put in about $275,000 in restorations.
Ford owns 15-27 S. Division St., that also houses Ford Piano and the Treat Station, a candy and toy store. An earlier $45,000 state grant went toward facade work of the building, Havranek said.
Ford's grandfather opened Ford Piano in Manhattan in 1897. Ford moved the business to Peekskill in the late 1980s. Ford said he's rebuilt pianos for the likes of Stephen Sondheim, Barry Manilow, Roberta Flack and Fleetwood Mac.
In addition to F-Sharp, Ford expects to run a nonprofit organization there, offering musically gifted Peekskill students free lessons and instruments, and giving back what has meant so much to him.
"Piano playing has been such an integral part of my life that I wouldn't know what else to do if I didn't know how to play a little something," he said.