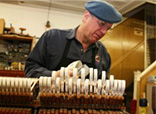 24 Feb

Piano Man

Music is eternal. Pianos, not so much.

"Essentially, pianos are not immortal," John P. Ford says. "They have a life span of about a half a century to three-quarters of a century."

That's where he comes in. Ford is owner and president of Ford Piano Inc. in Peekskill, a fourth-generation business that specializes in rebuilding the popular instruments. Together with sons John P. III and Michael, Ford will gut your piano if necessary, giving it new strings, tuning pins, tuning pin blocks, keys and hammers as well as a new finish.

Or if you're looking to buy, he can sell you an instrument that he's rehabilitated or one from the company's Mathushek line, which is made with Asian parts.

Why would you need Ford's services? First, consider the numbers: A new grand piano from the top names – Steinway, Mason & Hamlin, Knabe, Baldwin – might cost you $40,000 to $50,000. For $10,000 to $20,000, Ford can overhaul your Steinway or Mason & Hamlin over a three- to six-month period. Or you can buy a Mathushek for about $6,500.

But there's another reason to avail yourself of Ford's expertise: He's that good. Stephen Sondheim had two of his instruments serviced by Ford. So did Duke Ellington. One of his is now in the Smithsonian Institution in Washington D.C.

Ford has also done work for the likes of John Lennon, Barry Manilow, Fleetwood Mac, Hall & Oates, Madison Square Garden and the Fiorello H. LaGuardia High School of Music & Art and Performing Arts.

You don't have to be the Duke or a Beatle to restore a piano. But it helps.

As Ford puts it, "You don't have to know how to fly a plane to build one. But it might be nice."

He is like that, a gregarious man who laughs and banters easily at his shop, a three-story, 20,000-square-foot space that is filled with pianos, piano parts, dust and the heady smells of wood and varnish. Ford knows how to fly the plane, so to speak.

"I am musical, and I do play," he says, mostly jazz and blues, though he was classically trained.

Son Michael, who's at a different kind of keyboard as we chat – the computer – also plays, mainly pop standards. On this particular day, son John P. III is out in the field, making a tuning house call. Keeping watch over visitors, including that pesky mailwoman, is Tyson, a rescue Lab/Shepherd mix. She doesn't play. But she does have a melodious bark.

"(Tyson's) the shop foreman," the senior Ford says.

Getting wood on it

Piano restoration is, however, as much a craft as it is an art. And for that you need real woodworking skills. And perhaps, some training with weights. Ford lifts a plank of quarter sawn laminated hard rock maple, which is as heavy as it sounds. This dense wood is used to make the block that holds the 250 tuning pins that in turn anchor 20 tons of pressure from the instrument's steel strings. The strings – stretched out over a sounding board made of lighter Alaskan sitka spruce – vibrate when you strike any of the 88 keys.

The technology of building pianos has not changed since the 19th-century. It's no iPhone.

"The piano," Ford says, "is steeped in tradition."

And so is he. Ford is the third generation of his family to make and restore the instrument. That story begins with Ford's grandfather, Janos Fekete (FEH keh tah), a Hungarian immigrant who came to New York City between the 1880s and '90s and worked as a foreman at Steinway & Sons on 14th Street in the action department, overseeing the keys and the accompanying felt hammers.

In the late 1890s, Fekete struck out on his own, setting up Fekete Piano at 242 E. 74th St. in Manhattan.

"I remember as a kid looking up at the business certificate and it said '1914,'" Ford says. "And I said to my father, 'Aren't we older than that?'"

It turns out the City of New York had required businesses to get new certificates at the start of World War I. But what the story really illustrates is how Ford belonged to the business even before the business belonged to him.

Family traditions

Hungarians are a profoundly musical people who can claim as their own one of the greatest pianists in the history of keyboard artists – the showman Franz Liszt, who was said to make women faint merely by stripping off his gloves before sounding one rapturous note.

He remains Ford's favorite composer.

But Hungarian music is also rich in folk melodies, and Ford recalls growing up in the mostly Hungarian community of Yorkville on Manhattan's Upper East Side, amid the strains of the gypsy violins and the tinkling of coins that would rain down from the apartments to the appreciative musicians below. His family would dangle a dollar on a clothes pin just to keep the gypsies playing beneath its windows.

Though the family would change its name to the easier-to-pronounce Ford in the 1950s, Hungary and its musical heritage remained in the soul. And while Ford would study psychology at Long Island University and Stony Brook University, he would return to the business he had known since childhood.

"My father would say, 'If he can walk, put a hammer in his hand,'" Ford says with hearty laughter.

In the 1960s, Ford's father started Ford Piano Supply, which invented, manufactured and marketed many of the tools still used in the industry today. Such innovation and entrepreneurship are other family traditions. Fekete, as Ford calls his grandfather, once doubled the floor space in the Jacob Doll factory, where he worked in the 1950s, by installing old trolley tracks on the 35-foot-high ceilings from which the workers could hang pianos.

Ford himself is building a 4,000-square-foot concert hall adjacent to his business on Peekskill's South Division Street. It's yet another way for Ford Piano to connect with a community it's been part of since the 1980s, a place that boasts the Paramount Center for the Arts, the Hudson Valley Center for Contemporary Art and an artists' district that has made Peekskill a suburban SoHo.

No doubt, though, the concert hall – which will open next year – will also showcase a few Ford-tough pianos, instruments ready to last another half a century.