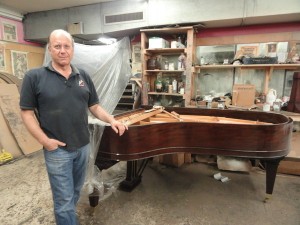 26 Feb

Peekskill's Century-Old Ford Piano Hosts Italian Jazz Days

The third annual Italian Jazz Days will feature the Antonio Ciacca Quintet and a workshop led by world-class musician Ciacca this Saturday at the Ford Piano factory.

By Liz Giegerich – September 29, 2011

When you enter the Ford Piano factory and encounter a beautiful Steinway and Sons grand piano, polished and tuned with music on the stand, it is hard to imagine it was once one of the broken and gutted pianos kept in the basement workshop.

Dozens of century-old pianos, suffering from old age, are stacked against each other in the "waiting room," where they wait their turn to be rebuilt (something that takes about six months). Shelves of loose keyboards, gutted pianos, piles of pedals and carpentry tools are spread throughout the large area.

Pianos in every stage of repair stand beside each other; a shell of an instrument sits beside one that has only its soundboard and bridge, which is across the room from another that is only awaiting some strings and keys.

On Saturday, some of the more finished pianos upstairs will join their broken-down counterparts in the basement, as owner John Ford will be making room for his third annual Italian Jazz Days event.

Jazz buffs, professional musicians and curious beginners will gather at the Ford Piano factory on South Division Street in Peekskill to discuss how Beethoven was a jazz composer and he didn't even know it. The discussion will kick off the Jazz Days free workshop at 11 a.m., which will also feature a master class on blues, swing and improvisation, jazz combo rehearsals and practice and an open rehearsal with the Ciacca Quintet, which will be performing at 8:30 p.m. (Details at the end of this article).

The world-class group features Antonio Ciacci on a special piano rebuilt for this occasion, with Daniella D'Erole on vocals, John Magnarelli on trumpet, Marco Panasica on double bass and Luka Santaniello on drums. Full details here.

"It is American music, but they are going to be jazzing it out," Ford said.

The Ford family is used to building pianos because they have been experts at it for more than 100 years.

John's grandfather started the business in 1897 and it is now in the hands of the fourth generation of Fords, as John's sons are fully trained and helping him run the family business.

"John Patrick is God's gift to piano tuning and Michael is the mechanical genius. Together the two are one of me," Ford said of his sons.

The business mostly rebuilds pianos that get shipped from all corners of the country, and even the world. They have worked on pianos from every continent except Australia and, on their website,boast the work they've done for John Lennon, Duke Ellington and other famous pianists.

Ford employs six full-time workers and has other people he uses on part time basis.

"We get a lot of fun out of taking old pianos that are beat and dead and terrible and you cant look at them, into things of beauty," Ford explains.