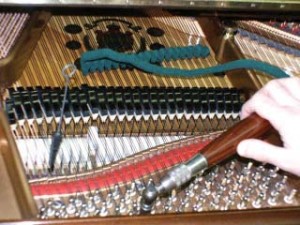 26 Feb

Peekskill's Own Piano Man

Keys to third-generation shop owner's passion are all in the music
Abigail Klingbeil

Kim Papa sits near the back of Ford Piano tapping the keys on one of the shop's shiny black instruments.  Boom.  Boom.  Bing.The untrained ear can differentiate the low booms from the high-pitched bings.   But Papa, a trained piano  tuner and four-year Ford Piano employee, can hear much more.She taps a tuning fork to hear an A note, the international concert pitch, then tunes the rest of the piano in relation to that note.  It's 12:15 p.m. and Papa and other rescuers of neglected pianos are fast at work. The company's ebullient owner, John Ford, is the third generation to run this piano repair and sales shop, which his Hungarian immigrant grandfather founded during the height of the late 19th-century piano boom.
Ford is now in the process of buying the three-story building at 15 South Division Street and the historic Hermax building next door, where he plans to open a music and dance hall.He will move his 9-foot Steinway Concert Grand, now at his home, into the new hall when it opens.
"Pianos are my avocation as well as my vocation," Ford says.  "When I leave here, most times I go home and play."
Downstairs, former cabinet maker Mike Logano takes the tuning pins out of a piano sent in for an overhaul.The sounding board, part of the piano's innards, is exposed Logano will insert a new board and strings,  and refinish the piano's exterior.
When Logano, a 10-year employee, is finished, the piano will be shuttled upstairs on a massive elevator lift  for tuning and final touches.
Piano overhauls can cost as much as $15,000.00.  Ford says he treats each piano the same, whether it's owned by a Peekskill resident or a famous musician.  His roster of customers has included John Lennon, Barry Manilow, Roberta Flack and Duke Ellington.
Although the store's expansive front windows offer people strolling by a glance at shiny concert grands and funky player pianos.  Ford says he gets little foot traffic.  "Usually, people don't walk off the street and say "I knew I needed a piano,'"  he says.
But they do track Ford Piano down from distant locales.  Last year, the business repaired pianos from Fairbanks,  Alaska, and Savannah, Ga.
Up-stairs again Chris is touching up the music desk of a shiny chestnut piano with brass feet.  Nearby, dozens of pianos wait their turn to be massaged back into their earlier glory.
A seven-year employee, Gonzalez is an all-purpose piano mechanic.  After being laid off, he randomly applied for a job refurbishing pianos for another company back in the summer of 1989.  "It turned out to be a summer thing that never ended," Gonzalez says.